5" Pro Series Additional Resources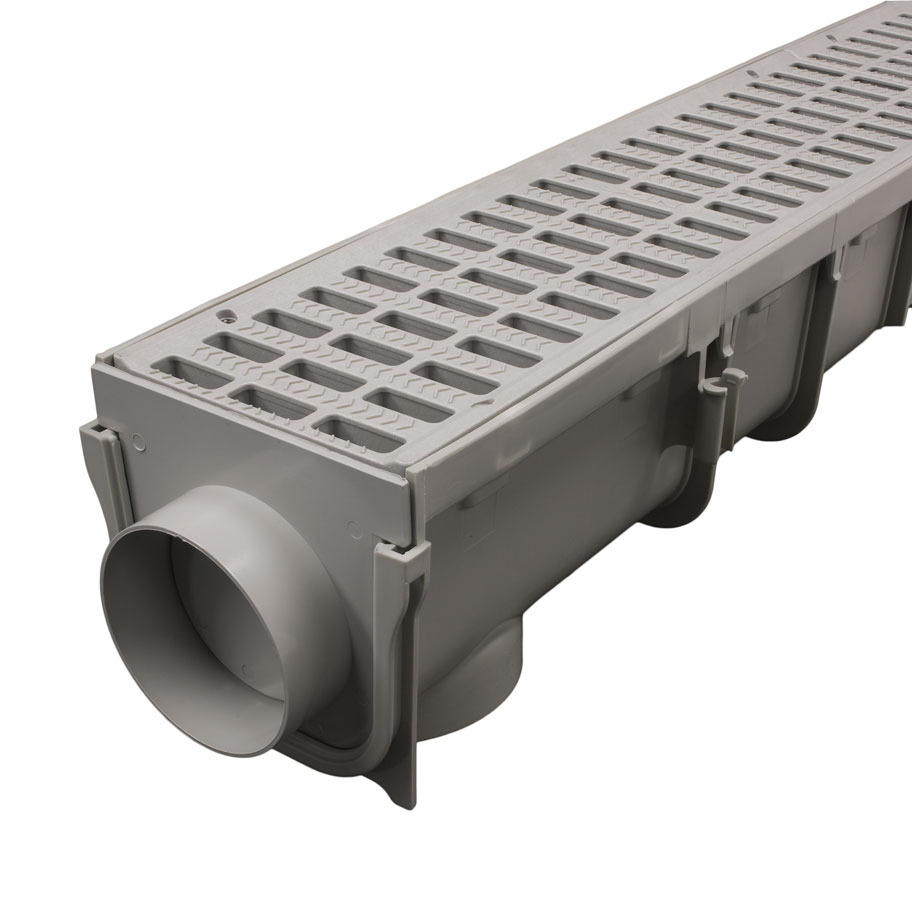 What is the NDS 5" Pro Series?
The 5" NDS Pro Series of trench drains is a polypropylene-based drainage system with all the advantages you've come to know and love about the Pro Series line. As you'd expect, the 5" Pro Series line has a variety of bends to fit every application, can be cut to sizes as small as 4", and comes in multiple depths. 5" Pro Series from NDS is the ideal trench drain to displace large amounts of water -- the deep profile drain holds as much water as a 5" diameter pipe of similar length; the shallow profile drain holds as much water as a 3" diameter pipe of similar length. With the ability to withstand vehicular traffic, NDS 5" Pro Series is perfect for almost any hardscape imaginable.
Applications for 5" Pro Series Drains
Recommended applications of the NDS 5" Pro Series Drain System include:
Athletic Fields
Commerial Hardscapes
Driveways
Spas
Tennis Courts
Pools
Residential Hardscapes
NDS 5" Pro Series Features
Available in both shallow and deep channel
Modular design available in 1/2 and 1 meter lengths capable of being cut to sections as short as 4"
UV Inhibitors to prevent fading and cracking
Unique interlocking joints remove the need for couplings
Wide variety of grate styles to accommodate any color and load requirement
---
Frequently Asked Questions
Where can I purchase NDS 5" Pro Series Channel Drain and accessories?
We're a little biased, but we believe there's no better place to buy NDS products than here at Drainage Connect. You can browse our selection of NDS 5" Pro Series equipment here.
What lengths are available?
NDS 5" Pro Series channel is available in 1/2 meter shallow drains and 1 meter deep drains . The channel can be cut at lengths as short as 4" while still preserving the built-in joints, which act as couplings.
What colors grates are available?
5" Pro Series drain grates are available in white, grey, green, black, sand, and brick red.
Are metal grates available?
Yes! Drainage Connect has partnered with Iron Age foundries to provide a comprehensive selection of quality, iron grates made in the United States. Iron Age Foundries specializes in decorative grating with many pleasant aesthetics to choose from. See our selection here. .
What is the load rating of NDS 5" Pro Series Channel Drains?
The Pro Series from NDS is capable of supporting up to Class D loads (326-575 PSI) when coupled with the proper grating. Pedestrian traffic Pro Series grates from NDS are capable only of Class A loads, injection molded Pro Series grates are capable of withstanding Class B loads, Load Star Heavy traffic channel grates are capable of supporitng up to Class C loads, and ductile iron grates are capable of withstanding Class D loads.
Does the 5" Pro Series Channel ship with any attachments?
If only the channel is purchased, there are no parts or accessories included. A kit is available for the 5" Pro Series which includes 1 meter of deep profile channel drain, two grates, eight screws, an end cap, and a spigot end outlet.
Can the 5" Pro Series make bends?
Yes! NDS 5" Pro Series not only comes in preconfigured 90° corners and 45° elbows, but with radius couplings from NDS, you can easily accomodate any bend with a radius of 30" or more. Additionally, the channel can be cut to any length using a miter saw. Please note that a second piece of channel must be cut at the same angle to match, and the joint should be taped and glued before being encased in concrete.
How do I connect the channels together?
Pro series channels connect via the built-in interlocking joints at the end of each channel. These joints are also available in 4" segments should you need to cut the channel to size.
How does the water drain out of the Pro Series Drains?
For shallow profile drains, water can be drained out the end of the channel using a spigot end fitting using a 3" pipe. You may also drain out the bottom of the channel with an NDS 5" Shallow Profile Channel Drain Side Outlet. For deep profile channel, you can drain out either the end using a spigot adapter, or out the bottom using a by removing the knockout plug standard in deep profile drains.
Do I need to worry about expansion and contraction of the grates?
NDS recommends that 1/8" be left in between each grate to allow for any expansion or contraction that may occur.
How much water can the channel hold?
Shallow Profile 5" Pro Series drains hold as much water as a 3" diameter pipe of equal length; Deep Profile Pro Series channel drains hold as much water as a 5" diameter pipe of equivalent length.
How do I glue on the accessories?
5" Shallow Profile Pro Series drains from NDS are made from PVC and can use PVC glue to secure attachments. 5" Pro Series Deep Profile drains are made from HDPE and can have their attachments secured by welder contact adhesive.
How are the grates connected to the channel?
The grates themselves fit within the Pro Series channel and are secured by 4 screws per grate. Screws may be purchased here.
Installation Video