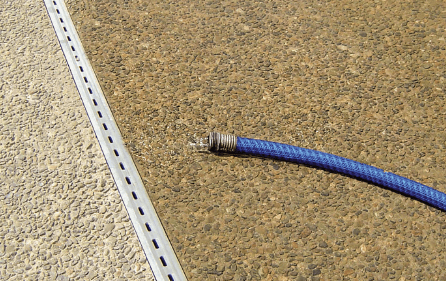 Micro channel is the smallest of all of the NDS channel and trench drain offerings at only 1-1/4" wide. NDS bills the Micro Channel drain as, "Excellent performance at the lowest possible cost. Designed for residential applications including swimming pools, spas, and patios. These drains are the lowest possible cost; this cost is achieved at the expense of some of the features present on more expensive channel drain lines. The NDS Micro Channel system is Class A-rated, meaning that it can support loads of 1-60 PSI and is recommended for pedestrians, bicycles, and wheelchair traffic. If your application is going to occasionally have heavy items moved across it, you may need a more robust channel drain. Additionally, the Micro Channel does not have a removable grate; instead, the Micro Channel System is reliant on special clean-out sections to keep the system clear of obstructions. As you can tell from the pictures, the clean-out doesn't have any slotting, so water isn't able to drain into clean-out sections. The Micro Channel system also has a wide array of fittings allowing it to be placed into most pre-existing infrastructures with ease. The Micro Channel system interfaces with 1-1/2" Schedule 40 and 80 fittings.
Learn more about NDS Micro Channel Drains
F.A.Q.s | Applications | Installation Instructions
---

Copyright © 2022 Drainage Connect. All rights reserved.