Today we're going to explore some of NDS' most popular products, their residential channel and trench drain. NDS also offers heavier duty commercial and industrial grade trench drains, but they are outside the scope of this article. Today, we're going to explore the NDS Micro Channel, Mini Channel, Pro Series Channel, and Spee-D Channel drains. Depending on where you reside, you may have heard these products referred to as linear drain, trench drain, channel drain, slot drain, u-channel, or a variety of other names. Regardless of what they're called in your area, channel drains provide immediate water management and allow the evacuation of large amounts of water to other areas. For most purposes, you'll use the channel drain in some type of hardscape where water isn't able to be absorbed naturally or where some sheet-flow occurs; as a result, it's important to take into consideration the amount of water your area may receive at any given point and ensure the drain will have the capacity to evacuate the water necessary to prevent pooling. We're going to go over each type of trench drain first, then we'll draw some conclusions and post an infographic at the end. Without further ado, let's dive into it!
Micro channel is the smallest of all of the NDS channel and trench drain offerings at only 1-1/4" wide. NDS bills the Micro Channel drain as, "Excellent performance at the lowest possible cost. Designed for residential applications including swimming pools, spas, and patios. Unique design features grate openings parallel to channel length and recessed grate for strength and effective runoff capture." As NDS mentions in their description, these drains are the lowest possible cost; this cost is achieved at the expense of some of the features present on more expensive channel drain lines. The NDS Micro Channel system is Class A-rated, meaning that it can support loads of 1-60 PSI and is recommended for pedestrians, bicycles, and wheelchair traffic. If your application is going to occasionally have heavy items moved across it, you may need a more robust channel drain. Additionally, the Micro Channel does not have a removable grate; instead, the Micro Channel System is reliant on special clean-out sections to keep the system clear of obstructions. As you can tell from the pictures, the clean-out doesn't have any slotting, so water isn't able to drain into clean-out sections.
With that in mind, the NDS Micro Channel system is perfect for pool decks and spas where heavy equipment is unlikely to travel, making it an attractive option for pools and spas on a budget. The Micro Channel system also has a wide array of fittings allowing it to be placed into most pre-existing infrastructures with ease. The Micro Channel system interfaces with 1-1/2" Schedule 40 and 80 fittings.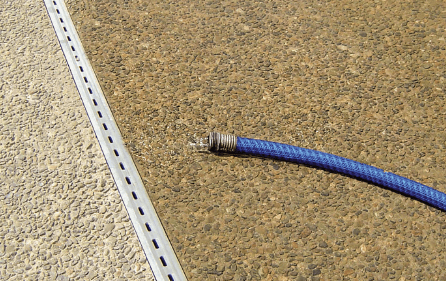 The next largest channel drain that NDS sells is called the NDS Mini Channel system. With a 3-1/2" footprint and 2-3/4" grate width, the Mini Channel system is a good bit larger than the Micro Channel system. The Mini Channel system introduces the 'flying buttress design' from NDS, which will be reused in the larger Spee-D drains we'll look at shortly. The flying buttress provides support from the bottom as well as each side of the channel and provides a convenient spot to stake the channel during installation to prevent floating. NDS bills the Mini Channel series as, "Excellent for light-duty applications including residential pools, concrete and paver patios, spas, and tennis courts." Unlike the Micro Channel system, the Mini Channel system by NDS has removable grates which determine it's the load rating. With the right grates in place, the Mini Channel system can withstand Class B rated traffic, meaning it's capable of supporting loads of 61-175 PSI such as medium-duty pneumatic tire traffic, autos and light trucks at speeds of less than 20 miles per hour. The removable grates also come in a variety of colors, styles, and materials. These grates fit into a groove in the channel body and the grates sit flush against the top of the channel; as a result, a sliver of the grey channel is exposed with traditional grates. If you find that unacceptable, the botanical and wave grates cover the channel body completely at a slightly higher cost while also having an improved aesthetic. The Mini Channel system has a robust array of bends and elbows to make installation into most hardscapes easy.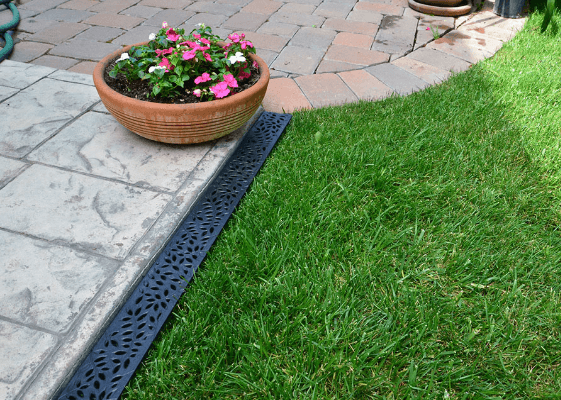 Unlike the previous channel drain lines by NDS, the Pro Series Channel drain line comes in several different widths and depths. As each of the different widths has their advantages and disadvantages, we'd be doing a disservice to you if we didn't expound on each individually. As a result, the Pro Series section will be broken down by widths to address individual issues or compliments with each of the widths. As a product line, the Pro Series Channel drains do not require couplings. Instead, Pro Series channel drains have couplings that are built into the channel body itself; the channels can be cut at 4" lengths while preserving couplings. The side of each channel's body also contains rebar clips, which allow the channel to quickly and easily set and leveled.
With a total width of 4-1/16", it can be confusing as to why these channels are called 3" Pro Series channels; we suspect they're called that because the actual channel itself is only 3-5/16" wide (the grate sits overtop the channel and has a buffer on each side). The 3" Pro Series line exists of just the channel body, the grates, an end cap, and a spigot-end adapter -- that's it. As you may imagine, this channel drain should be relegated to straight-line applications where bends are not necessary. Due to the low energy plastic that the channel is made of, bends are difficult to create as the material is difficult to fuse.
, Unlike the 3" Pro Series, the 5" Pro Series line features a bevy of fittings and bends to accommodate any installation. As the 'normal' Pro Series size, the 5" Pro Series line has multiple colors for grating, two different depth options, and a wide assortment of bends and corners to make outfitting any hardscape easy. The 5" Pro Series also has radius couplings available, allowing curvy landscapes to be followed closely -- the radius' turn the installation 5% per. With grates that range from Class A to Class D, the 5" Pro Series trench drains can be installed for just about any application outside of a highway or airport. As a result, this is the most versatile and functional of all of the Pro Series items. Additionally, the channels have built-in knock-out plugs, allowing the channels to be drained from the bottom or side of the channel if desired.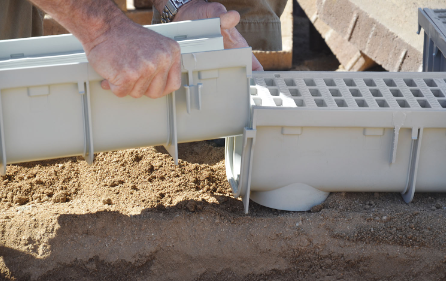 8" Pro Series Channel drains, much like their 3" Pro Series counterparts, do not have a wide variety of fittings available. Instead, NDS opted to only manufacture straight channels of the 8" Pro Series. While previous sizes (3" and 5") come in 1-meter channel lengths, the 8" and 12" Pro Series come in 20" runs, or 1/2 meter. Like the 5" Pro Series, the 8" Pro Series comes in two different depths, shallow and deep.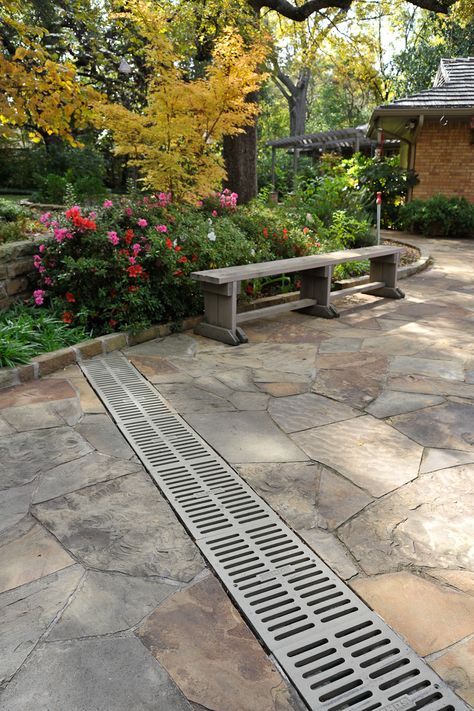 Like the 3" and 8" Pro Series, the 12" Pro Series Trench drains only come in linear pieces. Capable of holding as much water as a 12" piece of pipe, the 12" Pro Series is for those who need to evacuate a massive amount of water in a short period. Like most of the other Pro Series Channels, the 12" Pro Series Channels are capable of supporting up to Class D loads.
The Spee-D Channel drains are the big brother to the Mini Channel drains. Like the Mini Channel Series, the Spee-D Channel series features the flying buttress design, which ensures proper support for the grating via support from beneath and both sides. The Spee-D Channel series, like the Mini Channel, has a variety of different grates and fittings to make installation into any hardscape a breeze; unlike the Mini Channel series, the Spee-D comes in two different channel lengths: 4-foot and 10-foot. The 10-foot length is generally preferred by contractors and homeowners alike as it cuts down on the cost of couplings and the amount of labor required to lay the trench. Spee-D channel is 4.25" in width at the grate and a hair over 5" with the entire footprint. The message is clear: Spee-D can move some serious water. Spee-D only comes in one depth, unlike several of the Pro Series offerings.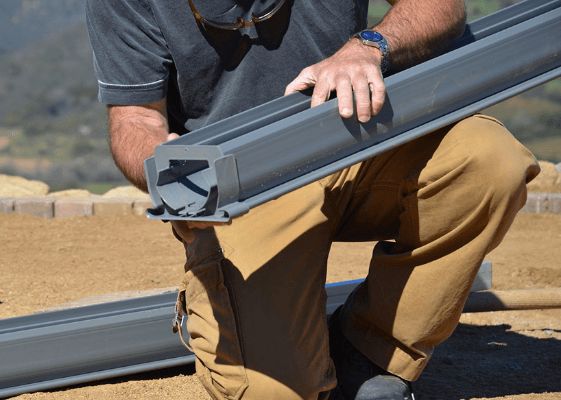 Closing thoughts
We've reviewed the strengths and weaknesses of each of the different trench drain systems available from NDS. Knowing these, you've got to consider your budget, your landscape's layout, the depth you can go to, and the amount of water you want to re-route; some of these sizes just won't cut it for major, recurring sheet flow. To assist you in making your final decision, review the chart below to come to an exact conclusion on what you need, or view one of the product pages related to the channel you're interested in to get even more information.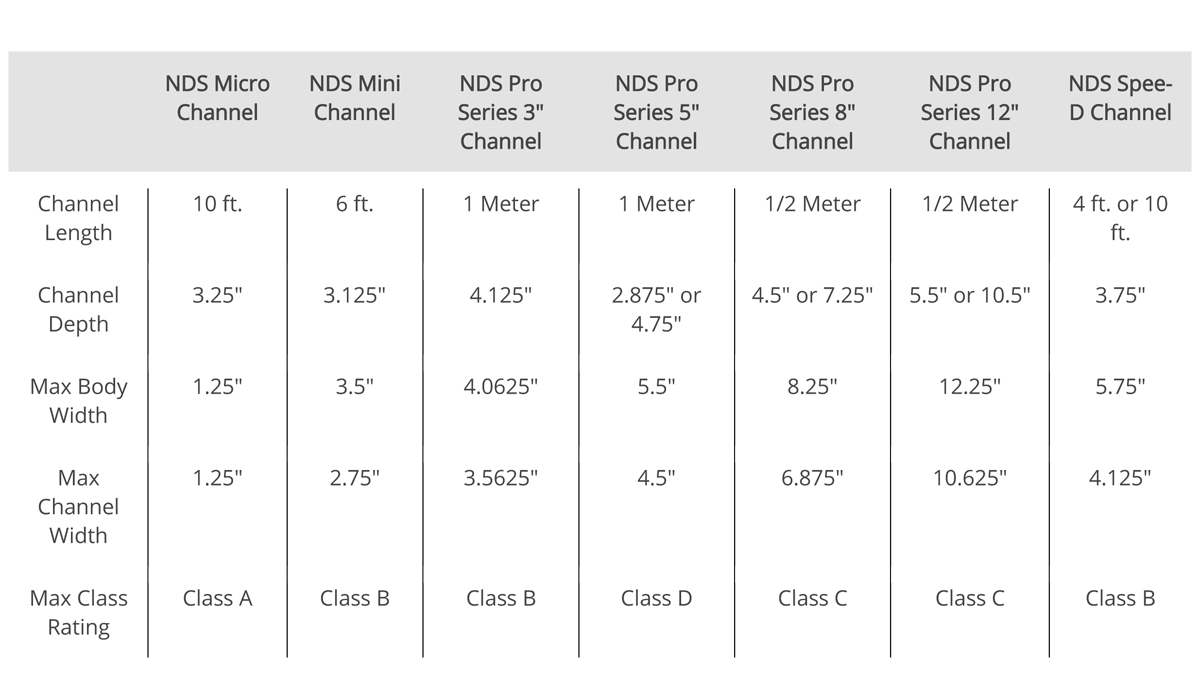 If you enjoyed this article, please take the time to like us on Facebook, Instagram, Pinterest, or Twitter to keep apprised of the latest and greatest in drainage technology as well as get the latest exclusive deals! If you're making your first purchase, sign up for the newsletter to get a 1-time-use 5% off coupon!